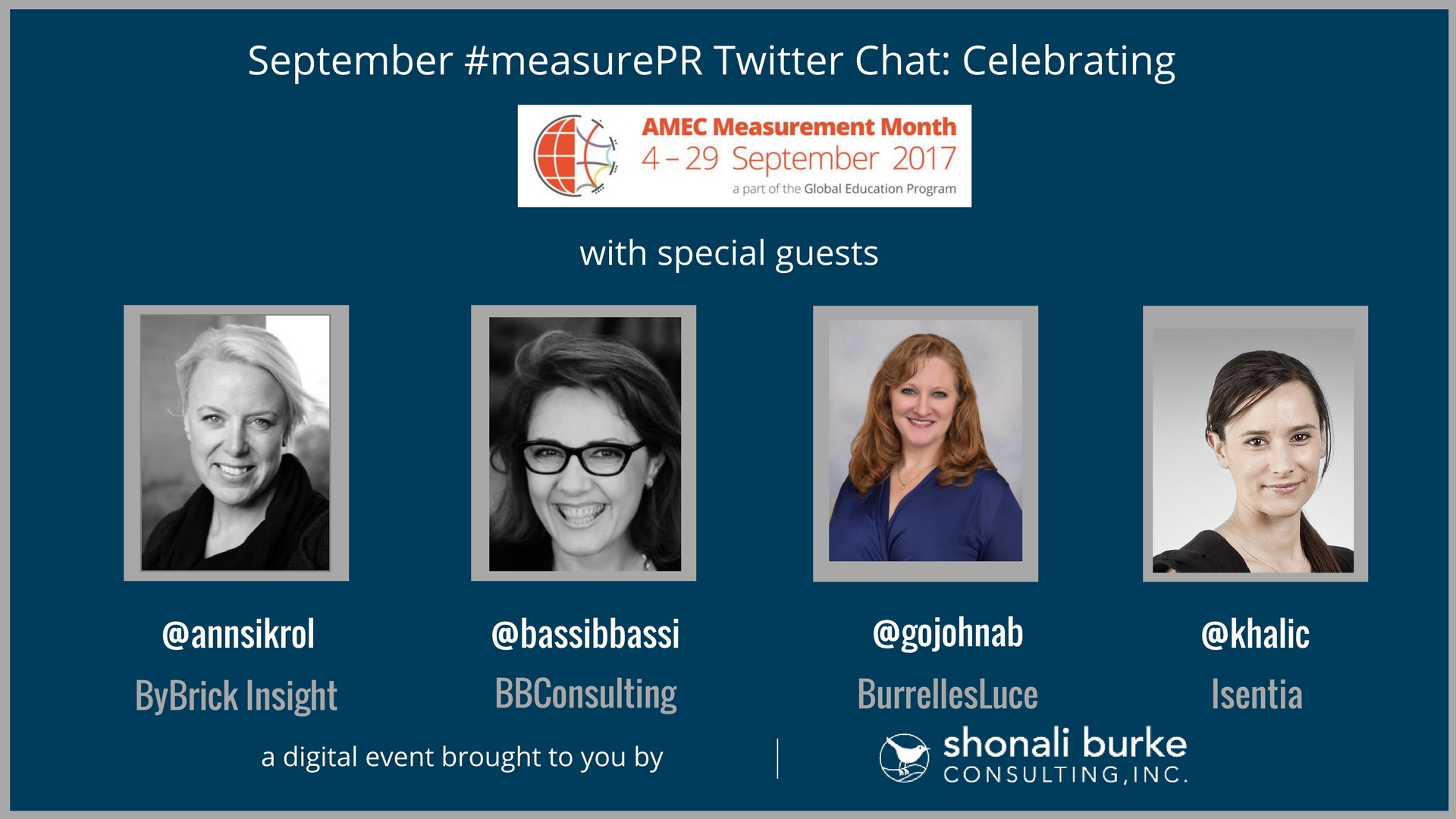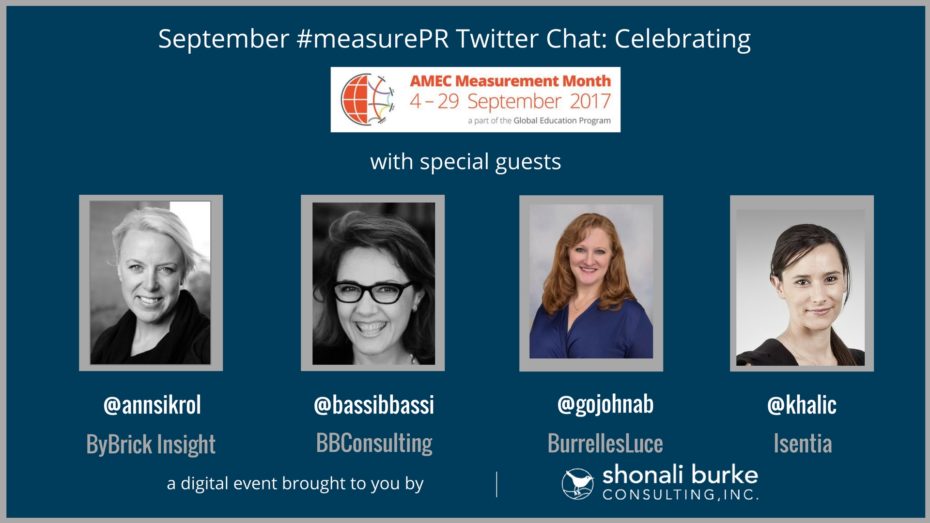 In September, #measurePR celebrated Measurement Month with an all-star, all-female panel of #measurati.
We were proud to feature the following special guests:
Here's some of what we talked about:
On changes to the PR measurement field:
A2: Biggest changes in insights have been in big data, data visualisation and increased awareness of measurement #amecmm #measurepr
A2:Starting to see better data dissection & attribution, but still see people 'checking the box' w/ counts & amounts #AMECMM#measurepr
Q2 Increasing importance of headlines and declining interest towards content, polarisation of opin, more content and data #amecmm#measurepr
Hi, A2 how about AVE's (someone had to say it)…..going down! #measurepr
Johna chimed in with a statement that literally had me laughing out loud:
Brothel Metrics are: Fast Cheap & Easy…not the kind you should be delivering to the C-Suite #AMECMM#measurepr
As did Barbara:
A2 To mention @thatmarion "Impression are like sperm – most miss their target and are wasted" #amecmm#measurepr
On PR measurement myths:
A3: Most common failure is getting tied up with counting. The real value comes from quant and qual analysis #amecmm #measurepr
A3: That #PR People can show #ROI without any financial data except retainer fee. Asked for the math…crickets! #MeasurePR #AMECMM #measurepr
A3 #measurePR without clear objectives, think about measurement only after the end of a campaign not to allocate appropriate budgets #amecmm#measurepr
A3: That a new Silver Bullet replacement for AVES in development!!! A – there isn't, but there are other options. #MeasurePR , #amecmm#measurepr
On common PR measurement fails:
No data collected of the campaign because the client thought of measuring after the campain is over #measurePR #amecmm#measurepr
A4 delivering data without context is also lethal. #measurePR#measurepr
A4: Trying to prove success without evaluating for next time #amecmm #measurePR#measurepr
Barbara weighed in with these words of wisdom:
A4 fails are so many along the path towards a successful measurement. We need to get away from the fear of failure #measurePR #amecmm#measurepr
A4 Thomas Edison failed so many times before giving birth to the bulb. Why should we be afraid of failing at #measurePR? #amecmm#measurepr
With such a great pannel and crowd present, time flew by and before we knew it our hour was up. If you missed it or would like to relive the magic, check out the #measurePR transcript for September 14.
October #measurePR Announcement
In October, #measurePR welcomes Angie Jeffrey, APR, ABX's Vice President of Brand Management, who's on the team behind the Gender Equality Measure (GEM™), created jointly by ABX and the National Advertisers (ANA) Alliance for Family Entertainment (AFE)'s #SeeHer team.
Angie will discuss how gender bias affects the bottom-line (and more!) with guest moderator Jen Zingsheim Phillips.
So mark your calendars for October 12th from 12-1 pm ET and be sure to RSVP to our Facebook event as well. "See" you next month!