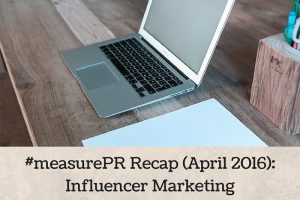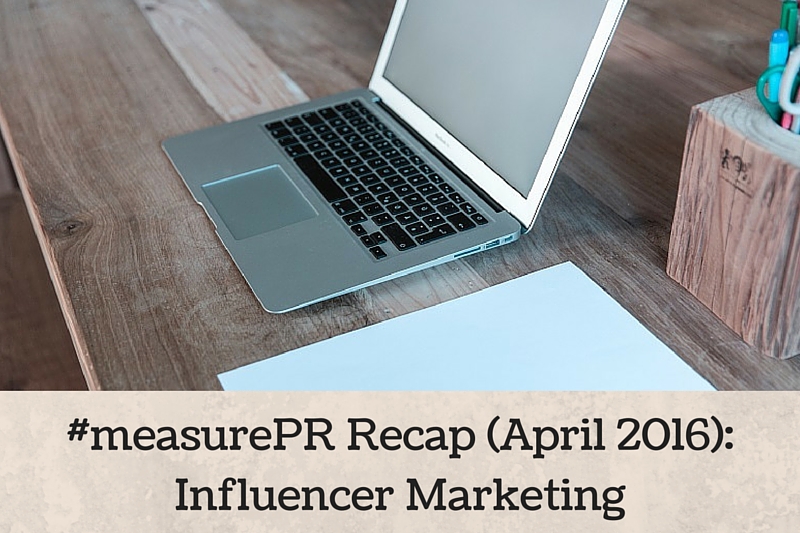 The April edition of #measurePR brought together a group of pretty heavy-hitting influencers in our space to chat about – what else? – influencer marketing best practices, relationship-building, and measuring your efforts.
They included:
Here's some of what we talked about.
On why influencer marketing is such a big deal today, even though we've always used influencers in PR:
A2: We have always reached to them but with the diversification of the media landscape via social media, there are far more. #measurepr
A2 [cont] #InfluencerMarketing is old but tested/true strategy that works, #SoMe just provides an infrastructure for scale #measurepr
A2: People want to know those who truly use the products. Not Selena Gomez who decidedly does NOT use Pantene #measurepr
A2: Data tells us that only 3% of people drive a staggering 90% of online conversation on any given topic #measurepr
Gerry Corbett – I so appreciate his huge support of the chat – chimed in:
A2. In the old days we called it identifying your key audience. You don't waste time on folks who don't care or matter. #measurepr
On common mistakes seen in influencer marketing:
A3: From my own experience, brands try to control your content, your messaging, your everything. It doesn't work #measurepr
A3: Going for influencer reach rather than resonance. It creates noise, not signal or engagement around the conversation #measurepr
A3: @scobleizer is not going to do much for Kraft Macaroni and Cheese. But too many PR folks look for quantity over quality. #measurepr
And that even got Robert Scoble to chime in!
@JasonFalls @TbroOnline @shonali you haven't met my best friend @pre_me. He eats a lot of Mac and Cheese. :-)

"" Robert Scoble (@Scobleizer) April 14, 2016
Amir added:
A3 Another prob is not understanding what other associations the influencer has that might not match with your brand #measurepr
Community member Lucy Rendler Kaplan had this to say:
A3 Looking at it as a one & done "campaign" rather than developing a mutually beneficial relationship is one of the biggest I see #measurepr
On the extent that brands should be ready to compensate influencers:
A4: in short my take is: "Pay for the craft, not the influence" #measurepr
A4 Each have different needs/wants exposure or 💰💰💰 well known influencers will cost you but worth it #measurepr
A4: Brands should be ready to compensate. Influencers have something they want. They should be paid for that #measurepr
A4: We have to stop assuming a "media outlet" will just pimp our stuff without compensation. The old model is dead or dying. #measurepr
Paula Kiger added:
A4 I can say from the influencer side of things, it means a great deal when brands explore what KINDS of incentives we prefer! #measurepr
I'm definitely not exaggerating when I say this chat was E-P-I-C. If you want to relive the magic, had to leave early, or missed it, check out the #measurePR transcript for April 14.
May #measurePR Announcement
In May, the #measurePR chat will focus on measuring media relations – a part of PR some love, some hate, and most of us love to hate!
Our guests are dynamite:
Michael Smart, who isn't just one of the best M.R. trainers around, he's a super-nice guy;
AirPR's Rebekah Iliff, who's one of the most passionate people I know when it comes to helping businesses measure PR's impact and make data-driven decisions; and
Anne Isenhower a media relations expert and social media enthusiast who works with nonprofits and Fortune 500 CEOs… and once placed an interview with a sheep. (Or was it a sow? I forget.)
This chat will ALSO be EPIC so DO NOT MISS IT!
Next month we're headed back to our original time slot, so mark your calendars for Tuesday, May 10th from 12-1 pm ET, and don't forget to RSVP to our event on Facebook. I hope to "see" you all there!