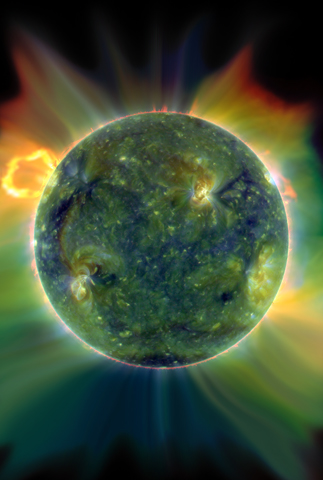 Last week Marshall Sponder returned to the bi-weekly #measurePR Twitter chat. As I said when I wrote up his previous "appearance," this is someone who eats, lives, breathes measurement, and that always makes for a good guest.
In addition, with his new book out, Marshall has a pretty busy schedule, so I really appreciated him making the time to chat with us.
Here are a few of the things we talked about, and what Marshall said (I've corrected minor typos/punctuation):
On what he describes as "social spectrum" activity:
Marshall calls this "ultraviolet" activity. "It's the data we could catch, but aren't, or we're tracking it, but the data isn't in a useable for the analytics and the operations we'd like to perform on the data."
He linked to a paper he wrote about it last year, where he came up with a audit process that allowed the user to know how much data was missing (or present). Marshall calls this the social enablement audit, showing you how much of your data is ultraviolet.
Starting out, what metrics are most important for a social media campaign?
Marshall: "It depends on what your goals are for the campaign and I believe you need to really think about that first before metrics. Put it this way: the metrics and KPIs will be defined once you can define what it is you actually want know and measure. Once you define what your goals are, we can then decide what metrics we can collect on them, and what KPIs to use.
"The best results will come from putting the analyst, creative and community manager in same team & room – brainstorming. It's syncing up [the] business process with [the] measurement process, which may end up causing you to ACTUALLY CHANGE your business process."
What is the best way to measure PR campaigns?
(This was the last question asked, and kicked off what I think would have become quite a heated discussion. We should have asked it first!)
Marshall said that he doesn't believe PR firms should measure the campaigns they manage, because they are not objective observers. Instead, third-party measurement firms should be doing so.
And, "First, PR firms are not the best place for measurement to begin with, since their focus is on creative and spin. Therefore, they may not have the proper ground in data analytics to even do a good analysis."
My reaction? "Ouch." I see Marshall's point of view, but I don't agree, especially on the "spin" part. However, it was not my job to stir up trouble during the chat, it was my job to moderate it… so that's what I did.
He did clarify that he wasn't saying measurement should not be done in PR, but that client measurement should be done by a third-party.
Here's the transcript of #measurePR with Marshall Sponder (Part II). There are a ton of links to previous interviews that Marshall has done, so I hope you'll download and read it when you can.
And please do save the date for the next chat: Tuesday, August 30, 12-1 pm ET. Jennifer Zingsheim will be guest-hosting, and Jonny Bentwood of Edelman, who created TweetLevel, will be the special guest. So it should be good!
Many thanks again to Marshall for his time and thoughts!