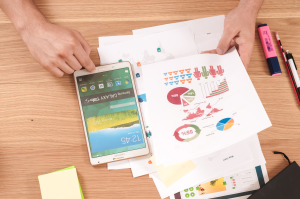 In spite of the bad rap email gets because of spammy e-blasts, it's still one of the best ways to reach your audience. Email metrics can open your eyes to what works and what doesn't. Learn how to gauge the effectiveness of your brand's email efforts in this week's roundup.
1. 5 Email Marketing Metrics You Should Be Tracking (But Probably Aren't)
Why: "When it comes to analyzing the performance of an email marketing campaign, many marketers turn to opens and clicks as a means of measuring success. And while these fundamental metrics are important to note, there are actually a lot more to consider," writes Bella Wu for HubSpot.
2. How publishers can achieve better ROI from their email programs
Why: "Publishers that don't track the ROI of their email programs are failing to connect the dots and identify how email is helping to drive site visits and increase ad sales," says Tony D'Anna as he explains how to harness your email's full potential.
3. Email Marketing: Campaign Analysis, Metrics, Best Practices
Why: "Email remains an immensely credible and profitable channel, with an immense reach to boot. To not have it as an active part of your marketing portfolio is sub-optimal," writes Avinash Kaushik as he introduces some of his best email metrics in this still relevant post.
Btw: isn't Avinash amazeballs? I think we should devote an entire roundup to him… what do you think?
4. 4 Secrets We Learned From Testing Email Subject Lines
Why: "The single factor that determined that email's destiny was probably the part that involved the least amount of time and effort: the subject line," says Annie Zelm in this Business 2 Community post that takes a deeper look at this critical component of email (and content) marketing.
5. The Right Way to Build Your Email List
Why: All the metrics in the world won't help if your email list is not up to par. In this post from the WUL vault (Karelyn likes that phrase, so we use it!), I share Adriel Hampton's three tips for excellent email list management.
6. Teaching Yourself to Fish With Usable Email Analytics Tools
Why: "Email marketing has many unknowns that can have us travelling blindly, not sure of the path we're on or even where we're trying to go," writes Cameron Kane of ClickMail as he explores how email analytics can help you "find the right path."
Why: "What kind of open rates should companies like yours expect? How many bounces are too many? What's an acceptable abuse complaint rate?" Find out the answers to these and how to improve your stats via MailChimp's blog.
What email metrics are most important to your marketing success? Are there any email metric tools that you swear by? Please share in the comments below. 
Photo: William Iven via Unsplash, CC Zero