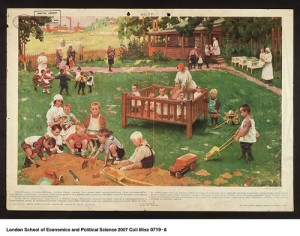 I recently spent the bulk of the day on Facebook/Twitter/Pinterest and the other "usual suspects" marveling at how incredibly much information flows between people around the world by the second.
Two separate posts by public relations professionals, though, caught my attention and brought my feet back to earth.
The first was an interview in eMarketer Daily newsletter with the eminently wise Brian Solis, in which he emphasized the human side of online communication.
Words like "empathy" and "people" were everywhere . . . concepts that I constantly "preach" both in my daily life as a undergraduate communication/public relations professor at Curry College, and in my "other" life as an actively-engaged member of the Public Relations Society of America.
The second was a blog post by one of my Curry College PR superstars, Erika Kuzmicz, who finished her degree requirements in December 2011 . . . six months early, immediately segued from Intern to Account Coordinator with Boston-based The Castle Group in January 2012, and walked across the stage to receive her diploma in May. Erika wrote a great post about the importance – and the value – of saying two simple words: "Thank you."
At both ends of the spectrum – senior professional and just-learning-the-ropes recent grad – the "people" connection rings loud and clear.
I write frequently myself about the people aspect of our business, most recently for Waxing UnLyrical, but also for my own blog, A Professor's Thoughts.
It's so easy to get immersed in the bright, shiny objects that are the social media platforms on which we communicate to larger and larger audiences and forget that, on the other end of the "tweet" or "like" or "pin," sits a living, breathing human being. And that aspect of communication is never going to change.
Until that fateful day when robots beget robots, there always will be humans involved in communication . . . developing messages, identifying optimal channels of communication, "closing the loop" in relationship management.
As Brian so correctly says in his interview, "The four Ps [product, price, place and promotion], should really be five, with "˜people' at the center."
And then Erika: "No matter what stage in your education or your career, there is always someone that helped you in the past or someone that supports you presently. No matter how long ago it may have been, take a moment to thank that person today."
Public relations doesn't happen in a vacuum.
People make public relations programs a reality. People make a business successful. No matter how sophisticated the message or the means of communication . . . "It's still about the people."
"I am the people – the mob – the crowd – the mass.
Do you know that all the great work of the world is done through me?"
Carl Sandburg, "I Am the People, the Mob" [1916]
Image: LSE Library via Flickr, CC 2.0