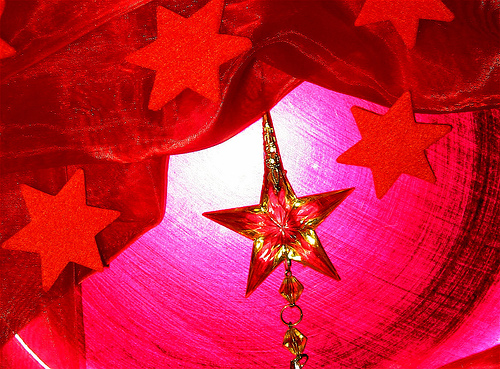 As I write this, it is grey and damp outside.
Christmas music is playing in my house.
Image: Cornelia Kopp via Flickr, Creative Commons
My husband is… well, I'm not quite sure what he's doing, but he's probably puttering around happily (that's what married couples do, we putter companionably).
Three dogs are in various stages of somnolence, on various pieces of furniture.
(I don't know about your dogs, but mine don't really get dog beds.

"Dog beds? sez Lola the Bassett. "I don't think you'll fit, but you can try.")
I'd been wondering what theme to give today's weekly roundup.
It's not that there's been a lack of interesting posts in my Reader, or that I've seen on Twitter, Facebook or the web. I just couldn't see a theme to them all.
Earlier today

I asked folks on Twitter and Facebook what their favorite holiday/Christmas songs were; prompted, no doubt, by the music I'm listening to.
It was great learning about the songs that make people gravitate towards them.
I didn't ask "why," but I suspect because they make them feel happy, or bring back a special memory – a point in time when things just felt right, or perhaps a special experience in their lives, when those songs happened to be playing in the background.
So today's weekly roundup is of seven holiday songs and those who shared them – because they were willing to share them with me.
If that's not relationship building, I don't know what is.
Many thanks to all who did; I learned a few new things as well, as I was researching the songs.
1. Last Christmas, by Wham!, shared by Louise Watson and Sheema Siddiqui.
Did you know: it's the biggest selling single in UK chart history that did not reach #1.
2. The Little Drummer Boy, shared by @claudiabia and Martha Muzychka.
Did you know: It's based on an old Czech carol.
You definitely don't know: my sister played the Night Wind in a fourth-grade enactment of the song.
Every time I hear it, I see her running around in a midnight blue floor-length dress, which my mother artfully constructed out of a georgette (or was it nylon?) sari.
3. Sleigh Ride, shared by Mary Fletcher Jones and Rachel Kay.
Did you know: this was actually written during a heatwave.
4. We Three Kings, shared by Tammy Nienaber.
Did you know: Blondie rocked this classic up last year. Apparently Bill O'Reilly couldn't figure out whether to call them pinheads or patriots.
5. Santa Baby, shared by Lindsey Rosenthal.
Did you know: one of the writers, Joan Javits, was the niece of U.S. Senator Jacob K. Javits.
6. All I Want for Christmas is You, shared by Geri Rosman and Shaun Dakin.
Did you know: Mariah Carey's hit is the best-selling holiday ring tone in the U.S.
7. O Holy Night, shared by Mary Barber and Martha Muzychka.
Did you know: This was the first song to be played live on a radio broadcast – in 1906.
What's your favorite holiday song, and why? Or do you have more fun facts to add to the above? I'd love to know.