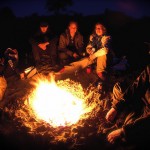 "Once  a jolly swagman camped by a billabong, under the shade of the coolibah tree…"
If you were ever a Girl Guide (I was!) or, as they say in America, Girl Scout, that might be a familiar song to you.
I don't know why Waltzing Matilda (that's the name of the song) is so closely identified with the Guiding tradition (anyone care to fill me in?).
Frankly, when I was 11 years old, I didn't think about stuff like that.
Because it's a great campfire song?
Image: Ville Miettinen via Flickr, CC 2.0
Because the first image that comes to mind – at least, it did for me – when thinking of Guides is a bunch of burly schoolgirls in brown uniforms who've put their lacrosse sticks aside to tie knots as they prance around a giant flame?
I tie myself in knots on a regular basis these days. I knew being a Guide would come in handy some day.
Take that, Burning Man.
I don't know.
But that's what this week's #measurePR chat reminded me of – a good ole campfire.
We didn't have a set agenda, we didn't have any special guests, it was just us, our thoughts and our laptops (which we probably wouldn't have at a real campfire, at least, I hope not)… but you know what I mean.
It was fun.
As usual, the community came up with gems to share with others (and you), including talking about how our measurement journey has changed over time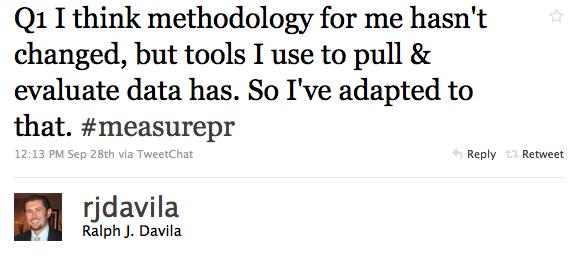 And sharing resources, like Katie Paine's social media measurement checklist, and IPR's new website.
The community's generosity of spirit never ceases to amaze me.
When I asked what folks would like to see more of in future chats, "real" cast studies was a common theme.
As Alan Chumley aka @Carma_Tweets said, "more 'show me,' less 'tell me'."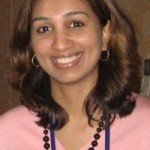 To that end, the next chat will see Priya Ramesh, CRT/tanaka's director of social media, join us to do just that.
Priya will share her case study on a campaign for the Council for Responsible Nutrition, when they decided to take their "Life… supplemented" initiative directly to their consumers via online networks.
Priya says, "This episode of #measurepr will share how CRT/tanaka leveraged social media to exponentially increase CRN's brand visibility online and significantly multiply key metrics (web traffic, scorecard participation, positive mentions) resulting in the 2010 PRSA Silver Anvil award for CRN in the Reputation/Brand Management category."
Sounds interesting, huh? I hope you'll join us.
It's free! It's online, which means you can join no matter which corner of the world you're in.
What's to think about?! RSVP now!
And don't forget to download the transcript of the September 28 #measurePR chat, so you can relive the campfire.
"And he sang as he watched and waited till his billy boiled…"