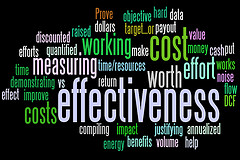 I don't know Olivier Blanchard personally. I follow him on Twitter and like "The Brand Builder" on Facebook. That's the extent of our relationship, and it is decidedly one-sided. He has not asked me to write this, and has not approached me to say nice things about him. In fact, I doubt he's even aware of me. I think that's important for you to know before you read the rest of this post.
I missed the #sxsmroi panel at South By Southwest Interactive on Monday afternoon. I was not pleased about this, but you know. Work and stuff.
Social Media ROI is something I struggle with. Really, the whole measurement thing is my glaring weak spot in the communications world.
I'm not proud of that, and I know it is something I need to work on, but it's one of those things that hovers on my "to do" list, never really making much progress.
I read this post by Olivier Blanchard on Monday night, and it put something into perspective for me: it's not OK for me to simply say, "I need to improve in this area" anymore.
I'm committing today to becoming a professional in the area of ROI. That doesn't mean I'll ever rival Brian Solis, or Olivier Blanchard, or the proprietor of this digital publication.
It does mean I'm going to read everything I can find on the topic, starting with Olivier's book and every post he mentions ROI in on his blog. Because I'm not providing the maximum amount of value to my clients if I'm not knowledgable in this area.
I know that your social media efforts must be tied to your business goals and help support those goals, but that's no longer enough for me.
I want to be a part of the solution, not a part of the problem any longer.
I finally found my 2012 resolution, just a few months late. I'm excited to being exploring this topic and to become someone people seek out to test their thoughts against.
Image: Beth Kanter via Cambodia4Kids.org via Flickr CC 3.0