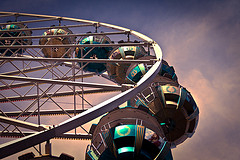 If you live in or near the DC area, this week's a big one.
The second GrowSmartBiz conference, co-hosted by Network Solutions (disclosure: client) and the Washington Business Journal is coming up on Friday.
Last year, I was invited to attend the conference as "media/blogger" – the first time that had ever happened to me.
So of course I went.
I had a blast, as you can still tell (I think) from my live-tweeted blog post last year, as well as my recap on why I thought the conference rocked.
I'll be heading back this year, not just because I had such a great time last year, but also because this time around, I'm speaking.
So are several of the Women Grow Business bloggers I've come to know and respect over the last year, including Deborah Ager, Jill Foster, Patricia Frame, Marissa Levin and Tinu Abayomi-Paul.
Over at Grow Smart Business, Monika Jansen gives you another 10 reasons to attend, and they're all true.
So if you're around, why not stop by?
It's not expensive ($79), is on a Friday (SO much better than all-day conferences at the beginning of the week) and it really will change your life.
Also, I will be on Joe Hackman's PRapalooza on BlogTalkRadio tomorrow (3 pm ET), with the unbelievably brilliant Gini Dietrich and Danny Brown.
Do tune in. It should be a barrel of monkeys… and hounds, if my dogs decide to join in.
Image: Herr Olsen via Flickr, Creative Commons