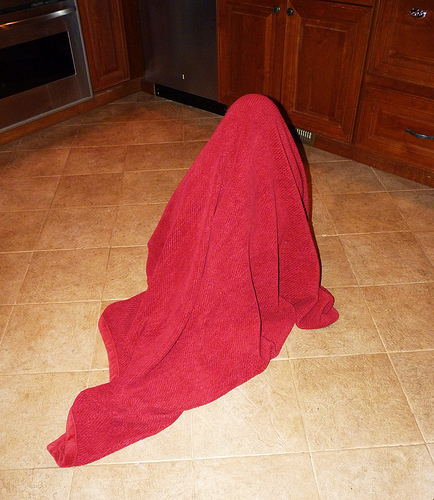 Give… no, Take
You know that feeling when someone tells you they'll give you something, you're expecting it, and then they tell you they've changed their mind because you're not worth it?
I think it's called "being punched in the stomach," or something like it.
This is the exact email exchange between a PR "pro" who pitched me on a food-related product that took place beginning last week and culminating yesterday. I've removed identifying information (just using the pitcher's initials) as well as information on the product itself.
And before I go into the exchange, I should tell you that this was the third or fourth time I'd been pitched on this particular company; I responded to one of the earlier pitches and never got a response.
Here it is.
From the pitcher:
Shonali,
The release below details a unique product that helps <blah blah blah blah>.
We would be happy to forward photos of the <product name> or help in any other way further.
Thanks and look forward to hearing from you soon.
T____ B______
<press release pasted into the email below his signature>
My response:

I think I've asked you, or someone from your agency 3 times already if you can send me one, because I'd need to test it, and I received no response. If you're not interested in following up, please don't keep pitching me the same thing over and over again.
From the pitcher:
Shonali,
My apologies — I just checked out files and don't see any email replies from you ….hmmmm…
Mailing address?
T____ B______
My response:

Not sure why that is, unless someone else is representing <product name>.

<followed by my physical mailing address>

Thanks, T_____, and I'd appreciate it if you didn't add my physical mailing address to any lists.
From the pitcher:
I will have the client get you a sample.
We never share contact info of our media contacts.
I show that you wrote for several blogs.
Which one is this for?
How many readers does that blog have?
Thnx!
My response:
Probably Spicing Out, my food blog. It's very new so confirmed readers aren't many – however, because of the reach I have ordinarily through SM, it will likely get some traction.

If there is a woman entrepreneur angle, then I could potentially feature on Women Grow Business; if there is a  strong social media angle, I could potentially feature on Waxing UnLyrical. You'll have to let me know if either exist.
From the pitcher:
They client has decided to pass on this — simply not a big enough audience.
Sorry.
TB
My response:

Then in the future please don't pitch me, without knowing who exactly you're pitching, what for, and why. Way to go to not build relationships, T___.
From the pitcher:
My apologies.
We are getting the client media interest from some of the top TV shows, mags and newspapers all over North America – and with a limited supply of samples, the client simply can't get one to media with #'s this low. Sorry.
TB
My response:

(Actually, there was none, I was done by this time.)
Gini Dietrich, Joe Hackman and I often share bad pitches that we receive (and we receive them so often, it's mind-boggling) offline for a mutual eye-roll and head-shake, and I shared this with them. They were adamant that I write about it, so I did.
This is not about feeling "spurned" that any of my blogs (or a well-respected woman entrepreneur-focused business blog) were deemed "too low in numbers." Frankly, I'd much rather not have to review products, which is why I rarely respond to pitches that ask me to do so; it takes too much time.
With this pitch, I was able to check off #s 4, 8, 9, 12 and 14 of my 15 reasons your PR pitches suck post.
And I'm going to add #16, which is an extension of #14: do not EVER pitch someone without being able to follow-through on your initial pitch and the blogger's request… especially when you've already indicated you will.
If your client has been clear that they want coverage only in high-profile mainstream media, then why on earth would you be pitching someone like me? It's a waste of your time, my time, and your client's money.
All that does is tell me you haven't done your research, you're not getting the kind of coverage your client wants so now you're grasping at straws and more than that, you don't realize that the successful practice of public relations today cannot be conducted in silos, keeping "MSM" in one, and blogs/social media in another.
And heaven help you should the day come that I'm actually writing for an outlet you do want your client to be featured in, because then I'll always recall you as the person who did (or didn't do) all the above … and gave with one hand while taking with the other.
I'm sure there are more lessons in this, though. What would you add? Please do share, the comments, as always, are yours!
Image: The Shifted Librarian via Flickr, CC 2.0