"The sheer volume of dreck which my fingers spew forth has helped me to become, albeit only slightly, a more polished writer." ~ Brian Meeks
This is the first in a three-part interview with Brian Meeks, who goes by the moniker "Extremely Average." I stumbled upon Brian's writing on Amplify (how's that for social media references?), and was fascinated by what he writes about and the way he writes it. So I asked him:

I've searched in vain for the almost-obligatory "About Me" on your blog, but couldn't find it. You're like Austin Powers, International Man of Mystery. Who are you?
Obviously I have done a poor job of site design, as I have hidden it in the top right hand corner.
I am, at my core, someone who is fascinated by all that I see. The blogging has become a new passion of mine, but it is not the first. It is a bit of a running joke among those who know me well, what is "Meeks' current hobby?"
I have, at various points in my life, been interested in chess, badminton, table tennis, and once tried to teach myself Korean while secret shopping for KFC and Taco bell, out in the pan handle of Oklahoma.
There have been other interests, photography being one, which has held my attention since I was 16.
My photography teacher said, "Brian, you take a nice picture, but you stink in the darkroom."
It was with that encouragement that I focused on time with the camera, and avoided chemicals and red lights. Fortunately for me, the age of Photoshop arrived and digital became the way to go. So now I am able to have the joy of the darkroom without the horrible results.
I love art as well. When I lived in DC, I was a docent at the Corcoran Gallery, which is the 3rd oldest gallery in the U.S. This opportunity was a joy and let me learn more than I ever could from books.
Speaking of books, I love them, not as much as I love an accidental segue, but quite a lot.
I like how they look on the shelf, the joy of reading them, and the wonderful insights one can gain from wondering around their pages.
There is more, but at this point, I am as tired of writing about myself as I am sure you are of reading it.  So I will move on.
Your blog is subtitled "My Journey in Woodworking." Is that your profession? Hobby? What's your "real" job?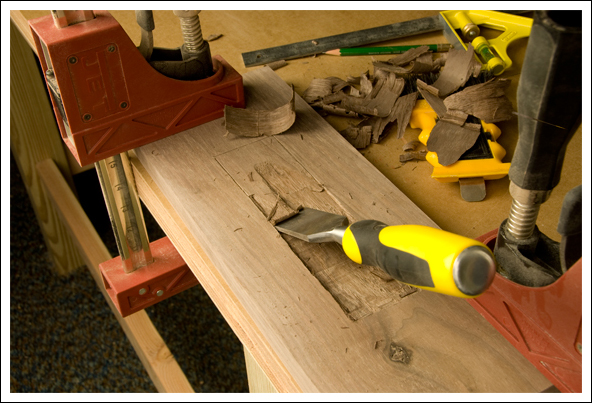 That is a great question. No, my profession is in social media.[Woodworking] is purely a hobby, one that takes a long time to learn, but is very satisfying.
Image of chiseling a mortise © Brian Meeks, used with permission
I had wanted to take up woodworking for about 20 years, but never lived in a place with adequate space for the requisite tools and such.
When I moved back to Iowa from DC, in July of '09, I decided it was time to start. I began by building a workbench, and moved on to some saw horses based upon a design by Krenov, and next built a router table.
It is my intent to focus on building projects that will aid me in woodworking, and as such, develop my skills without worrying about the mistakes, which one who is new is apt to make.
"Extremely Average" seems to be a fairly new blog. Did you blog elsewhere before EA? Why do you blog?
Yes, Extremely Average was started on Blogspot Jan 2, 2010. I think it was sometime in March when I purchased my domain and moved everything to the current location, the site with the hidden "about" section. I believe I have 3 or 4 posts out there in cyberspace somewhere under Ecocandle, though I can't say for sure.
I tried blogging out 3 years ago, for about 2 weeks, but never considered trying to get people to read my blog.
The environment is much different today; even a neophyte will get some traffic. I am thankful that I have Google Analytics to help me watch the traffic and learn how different approaches help add eyeballs.
Of course, many things I have tried have failed miserably, but even a failure can help one learn.
I blog to motivate myself to keep progressing at woodworking, which motivates me to keep progressing at writing (I don't think my computer considers "blog" to be a verb, and it is giving me some guff).
It is a symbiotic relationship; without one, I doubt if I could do the other as well.
If I stopped blogging, I would likely spend less time each week woodworking. If I stopped woodworking, my weekly writing would drop off. I believe I am writing around 10,000 words per week.
The sheer volume of dreck which my fingers spew forth has helped me to become, albeit only slightly, a more polished writer.
Title image: Ross Mayfield, Creative Commons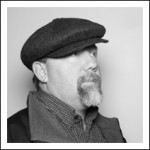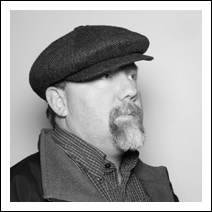 Brian Meeks used to make his living in the virtual world of Second Life, where he built spaces for corporate clients under the name Ecocandle Riel.  When the economy went south, he turned to Social Media and does this to feed and clothe himself.  In his free time, he does… well… social media… and publishes the blog Extremely Average. He can be reached by email at ExtremelyAverageOne (a) gmail (dot) com, or by carrier pigeon at the house with the big tree out front. You can also connect with him on Twitter.