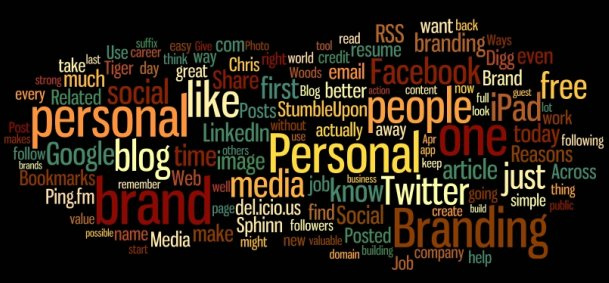 Good morning! I hope everyone had a great week and is ready for the weekend ahead.
Image: ryan_rancatore via Flickr, CC 2.0
Establishing a positive impression about yourself and your business can go a long way, especially in the social media world. This week's roundup features seven posts from around the web that focus on personal branding. Enjoy!
1. Why Personal Branding? For Lifelong Employability
Why: People who build their personal brand build stronger networks and are presented with a greater number of business opportunities. A good read, despite the random capitalization, from Daniel Newman.
2. Social & Digital Body Language – 105 Factors Impacting Business & Personal Brands
Why: What is the overall personality of your brand? Pam Moore examines 105 factors (FOMG! 105!!!) that could be influencing your digital body language and how your audience perceives you.
3. 12 Steps To Look People in the Eye Digitally
Why: Digital interactions require the same personal attention as physical relationships. In this guest post for The Cogent Coach, Ted Rubin lists 12 ways to give your brand's online interactions a human touch.
4. Should You Brand Your Business Email Address?
Why: In this goodie from the WUL vault, I examine whether a business email address or lack thereof can make or break your personal brand image.
5. Your Story and Your Small Business Unique Value Proposition
Why: What sets your brand apart from the rest? I adore this post from Ken Mueller, which discusses the importance of sharing your story to show customers what makes your brand unique.
6. Why Content Really Isn't King and What Actually Is…
Why: Is your best content getting lost in the noise of social media? In this guest post for SteamFeed, Ross Simmonds discusses whether C.R.E.A.M. or D.R.E.A.M. is the mantra you should follow. I have my opinion, I'll be interested to hear yours!
7. Giving And Receiving Effective Feedback
Why: Giving and receiving effective feedback is important, especially when building your personal brand. Tim Bonner offers some tips.
How do you give your brand a personal touch? Please share in the comments below.