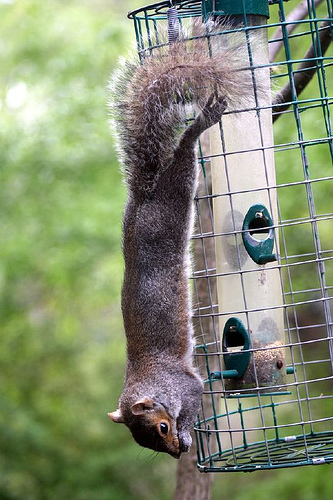 We've talked quite a bit about the need for constantly educating ourselves and our peers recently, haven't we?
Reminds me of a conversation I had with Back Yard Squirrel the other day.
Image: Les Howard via Flickr, CC 2.0
"So what do you do?" he asked, while trying to reach – upside-down – into the bird feeder.

(Unsuccessfully, I might add.)

"I'm a PR agency of one," I answered, wondering if a neatly-aimed acorn might knock him off his perch.

"What does that mean?" he asked.

"What do you think it means?" I countered.
That stumped him for a moment.
But only for a moment, because BYS is disgustingly light on his toes.
"You get your clients buzz," he finally offered up.

"What do you think I am, a bee? Sometimes, but that's not all of it."
After performing a nimble pirouette to make sure he wasn't about to be zapped by a stinger, he tried again.
"You put a good spin on stuff," he said, still keeping a beady eye out for bees.
I started to respond, but realized keeping my lips firmly closed would be better for my blood pressure.
"I know! You turn communication conundrums into community cool!" he exclaimed triumphantly.
My jaw dropped in astonishment… until I realized he'd sneaked a peek at a line from my speaker bio.
I don't know why I try to have a reasonable conversation with a squirrel either.
Makes for a change of pace, I guess.
At any rate, here are a few events coming up that might even teach BYS a thing or two about the wonderful world of PR and all it entails… if he were smart enough to go, of course, which he's not.
Because sense is lost on squirrels.
They're in chronological order, so I'm not playing favorites. And yes, most of them are in DC.
Note that I'm not being paid to promote any of these, though I do get a complimentary pass/registration to the events at which I'm speaking.
If you're in the area, how about stopping by?
This is my first time speaking at what has the reputation of being a very cool conference.
It has to be, if it's being held at Town Danceboutique and with folks such as Amy Webb and Shaun Dakin speaking.
My own presentation will be on the Tragic Story of Web 4.0… and I'm going to try to make it as fun and surprising as I can.
Register here, if you're interested.
October 3-7: eMetrics Marketing Optimization Summit (Arlington, Va.)
This is a doozy of a summit. I've always wanted to go and am pretty psyched to be a part of it this year.
There are so many smart people who'll be speaking here (much smarter than me), I don't even know where to begin.
You'll probably leave with your brain in overdrive, but heck, isn't that worth it?
And what I get to pass on to you is a 10% 15% promotional speaker discount on the 3 Day Summit Pass, if you use the code SBEMOS10 when registering.
That's the second option you'll see on the registration page, and the discount is good only for that option.
Regular price $1,995 in advance (whoa!). Cool, huh?
Register now – and don't forget to use the code!
October 5: Monitoring Social Media (Boston)
My friends at Glide Technologies told me about this; looks pretty interesting with a great speaker line-up.
If you've never seen Katie Paine in action, this is your chance; not to mention catching up with Very Smart People like Philip Sheldrake (who visited with us on #measurePR), Amber Naslund and Marshall Sponder.
Glide has up to 14 tickets to give out at a 10% 20% discount (of any price); just enter GLIDE (the discount code) when you order your ticket.
October 13: IABC/DC Metro Happy Hour with Steve & Cindy Crescenzo (DC)
This is going to be one of the most fun. Events. Ever.
If you've never met Steve and Cindy aka the dynamic duo, they are wicked smart.
And they're funny too.
They're going to be in town doing a communication workshop for IABC (HQ, not our local chapter, of which I'm president), and we managed to snag them for a pre-event happy hour.
You won't regret meeting them… so come on out.
Bonus if you're an IABC member: no registration fee!
October 16-19: PRSA 2010 International Conference (DC)
This will be my third PRSA conference in a row, and I've had a ball at the previous two.
I'm especially excited because so many of the wonderful pros I've connected with and gotten to know over the years will be in town and speaking. Way too many to list.
My gig's on October 18 (I'll be talking practical measurement), if you're planning to come.
October 26: IABC/DC Metro's Silver Inkwell Awards Gala (Bethesda, Md.)
This will be my last "big" chapter event as president, and I'm already getting nostalgic.
But I know it will be terrific for two reasons:
First, because coming to an awards ceremony, where the winning awards are on display, is a great way to learn about best practices in the field from smart people who are doing smart work every day.
Second, because Mark Drapeau aka @cheeky_geeky is our keynote speaker.
W00T!
We've opened registration; rates will go up the more you wait… so what are you waiting for?
Whew. I'm exhausted just looking at this line-up.
Think you can make it to one of 'em?