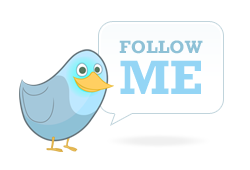 Social media platforms will come and go; but I truly believe that if any recent platform has had a dramatic impact on how we communicate, it's Twitter. And even if it "goes away" at some point, what it's taught us about two- and multi-way communication, not to mention brevity, is remarkable.
An admitted Twitterholic (or, at least, I used to be… I'm not on the platform that much these days, but it's still my favorite), here are some fresh takes on Twitter, at least, according to me.
Image: Pasquale D'Silva [Public domain], via Wikimedia Commons
1. 6 Tips to Grow Your Twitter Followers

Why: From choosing the correct profile picture to using hashtags correctly, Daniel Sharkov, guest-posting for Jeff Bullas, provides practical advice to gaining more Twitter followers, if that's what floats your boat.
2. 15 People Every B2B Marketer Should Follow On Twitter
Why: Yes, yes, lists are subjective. Eric Wittlake has an interesting take on this one, and shares his personal list of "hidden gems" on Twitter.
3. 18 Tweetable Twitter Tips for Newbies
Why: For those who are new to, or uncomfortable, using Twitter, this WUL post I wrote not that long ago has 18 tips… all of which are tweetable (wanna guess how much time that took?!)
4. Follow me on twitter…no, really…
Why: Bill Dorman explains his screening process for following accounts on Twitter, and how it helps make his live feed more manageable.
5. Infographic: How Twitter affects the stock market
Why: Jim Dougherty shares an infographic that gives us a fascinating look at how tweets can have far-reaching real world consequences.
I hope you've enjoyed these Twitter tips and maybe even learned a thing or two. If you have something you'd like to add, would you add it in the comments below, please? You know how I love to see you there!