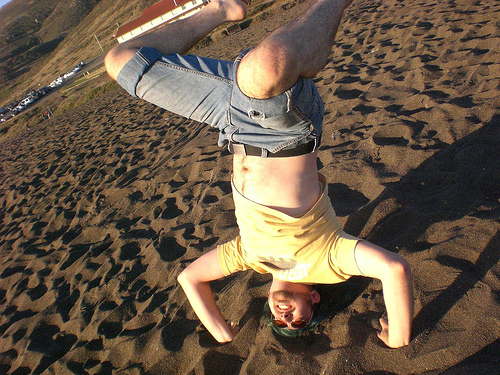 Last week Seth Duncan of Beyond stopped by the #measurePR Twitter chat to talk about something I thought was very intriguing.
Instead of always talking about what PR can learn from marketing analytics, what if we asked what marketing can learn from PR measurement?
Pretty radical, eh?
Seth and I had been brainstorming ideas for the chat, and when he suggested this one, I said to myself, "Bingo!"
So that's what we talked about.
It was really interesting.
Here are some of the "sound bites."
On why frame the question this way instead of the other way around (all quotes/notes from Seth):
"Social media marketing shares one key goal with media relations and PR: obtaining lots of good earned media. The campaign content and its distribution tends to be different, but the media-related research questions are similar."
"What sort of reach did we get, was the response positive, were messages picked up, etc.?"
"PR has been answering these questions using media research for a long time," but they are much newer to marketing.
On specific PR measurement processes marketing pros can implement:
How to best mine social media content for customer sentiment & messages
At the moment, marketers are relying too heavily on automated content analysis
Tools like Radian6, Netbase, etc., don't work without analysts
On what PR pros can do to educate their marketing counterparts:
Campaign evaluation is going to be more exploratory than it used to be, since social media marketing is starting to look more like traditional communications in some ways (once the news release is sent out, you don't know exactly where/how it will be picked up)
Tell your marketing counterparts of your own experiences on how to find and then analyze earned media
Share PR data and reports since, with good analysis, they can spark a lot of ideas for marketers
On what marketing can learn from PR on a philosophical level:
Customers are going to talk about your campaign in ways you won'tanticipate
So analysts need to sample and read social media posts before you quantify anything
Don't rely just on sentiment; look for messages and message accuracy
The transcript of Seth's second visit to #measurePR is worth a read, because you'll really get a flavor of the conversation from it.
So go ahead and download it.
That's what it's here for, after all!
Many thanks to Seth for making the time to do this.
He's such a smart guy; you're already following him on Twitter and reading the Beyond blog, right?
And next week, I have a special treat in store for you.
Since I'll be traveling, my good friend Sean Williams – another smartie – will step in to guest-moderate #measurePR.
Sean is way way smarter than I am, so this is likely to be a really terrific chat.
Don't miss it.
And make sure you're reading Sean's blog as well.
It's next Tuesday, April 12, from 12-1 pm ET.
I'll miss you all, but I'm looking forward to the transcript and I know you'll be in good hands.
Image: Lynae Zebest via Flickr, CC 2.0