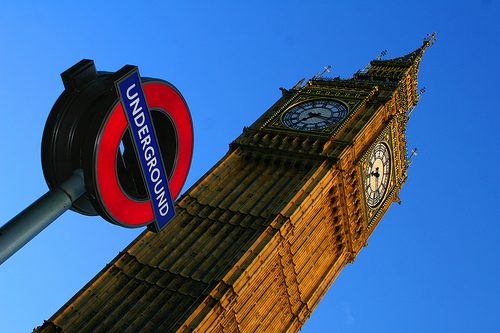 Seeing as how I spent this past week in London, England, I thought it only appropriate to showcase some of the most interesting blog posts from "across the pond" that I've come across recently.
Image: anthony kelly via Flickr, Creative Commons
Here you go.
1. Coca-Cola's sponsorship is all about them, from Paul Seaman's 21st-century PR Issues.
Why: Celebrities don't always the perfect brand relationship make. And once you've made your bed, be prepared to lie in it.
2. Top German firms ban Facebook and Twitter, by Neville Hobson.
Why: Apparently we're not over the social media adoption curve after all, no matter what you might hear.
3. Just getting stuff done on the Intranet, from Kilobox Communiqué.
Why: Grand plans are all very well. Sometimes you just need to help people get simple tasks done.
4. An hour of tweeting dangerously, from Richard Bailey's PR Studies.
Why: This is a question teachers are always being asked (and asking themselves). I thought Richard's report of his experiment was fascinating.
5. Chipotle mishap highlights importance of clear communication with customers, by Becca Caddy for Reputation Online.
Why: Robert Frost come to mind, anyone? "… And I have miles to go before I sleep…"
6. A few tips for experimenting with QR codes, by Joe Walton at the Real PR blog.
Why: I know QR codes have been all the rage in Japan for a while and are just starting to catch on in the U.S. I thought this was a good primer.
7. What is the best SEO secret you know? PR of course, from the PR and Media Blog of James Crawford.
Why: public relations professionals spend a lot of time trying to learn about SEO and increasing online visibility. Sometimes we forget that there is a human side to all this, and that's what caught my eye.
I liked the way James summarized a discussion on Quora around SEO secrets; I think the full discussion is worth you checking it out as well.
How about that – you actually got a bonus in this week's roundup!