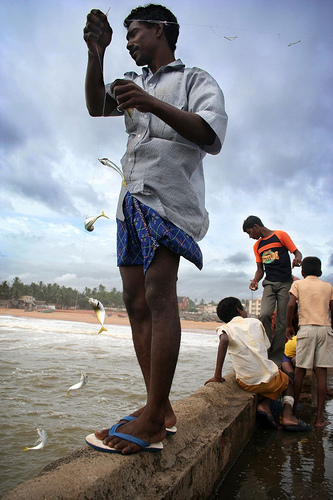 I've just started catching up on my Reader (and I have a long way to go).
It was inevitable, though; when I was at BlogWorld last week, I tried as much as possible to focus on the conference and all the wonderful people I met.
When I took a few days off after that, I was pretty much offline except for sharing some photos via Facebook, and then getting back to work this week, I needed to focus on, what else, work (!).
So here are some posts that I've just been getting to. If you missed them over the past few weeks, do give them a read. It will be worth your while.
1. SEO Run Amok, a guest post by Brian Meeks over at Spin Sucks.
Why: it's hilarious. If you read WUL regularly, you'll know that I first chatted with Brian a while back, and he is one of the smartest and funniest people I know. And believe me, it's tough to do both well. Which is why it tickles me pink every time he writes a guest post for me … and there'll be one coming your way this week, so watch out for it.
2. An apologetic tweeter, by Neville Hobson.
Why: I thought this was fascinating. However, if this approach to settling defamation suits takes off, I imagine some lawyers might not be too happy.
3. Journalism vacuum filled by PR professionals, or spin doctors? by Mark Story.
Why: tell you what, when Mark decides to rant, it's g-o-o-d.
4. Social media case study: Feed My Starving Children and Facebook Groups, by Arik Hanson.
Why: really interesting explanation of Facebook Groups as a mechanism for internal communication. It might be something you can put into play at your organization.
5. Do you have a defining moment? by Bill Dorman.
Why: this is not only a personal post, but it's very powerful. It made me stop and think and might give rise to a post (or three) of my own.
6. 7 ways to get the most out of social media in a disaster zone #crisisdata, by Kami Watson Huyse.
Why: more than the 7 ways, Kami's commentary is always thoughtful.
7. Socialbrite looking for part-time Executive Editor, by JD Lasica.
Why: I think this is the first time I've included a job posting in a roundup! Since I recently joined the Socialbrite team, I can tell you they're a terrific group of people and this would be a tremendous learning and networking opportunity for you. So if you're interested, please contact JD.
Image: Seema K K via Flickr, Creative Commons