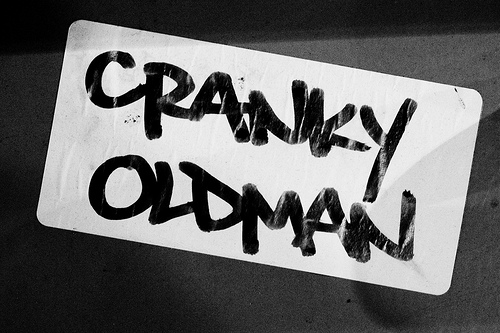 I got nothin' for you this week.
Ok, that's a bit of an exaggeration. There have certainly been some great posts I read.
But what with it being a really hectic week–not to mention the EC2 crash (yes, again)–my creative juices are running low.
In fact, not only are they running low, they are decidedly cranky as well.
So here are some of the best cranky posts I've read (and not just this week either).
1 – 4: Media Bullseye's Meltdown Roundup.
Why: isn't a meltdown a precursor to crankiness? There you go.
And don't tell me I'm cheating by calling these posts #1-4.
There are actually a ton more references in here, but I'm playing nice by giving you the MB post as #1, and then the three stories it references as #s 2-4.
Ha.
5. Thank you for your comment. Now shut up. WTH? by Davina Brewer.
Why: the headline says it all.
6 & 7… Wow, I'm out of juice already.
Again.
So now I leave it to you to fill in the blanks: what are your favorite cranky-pants posts?
It'll be therapeutic to share, you know.
P.S. Happy Easter!
Image: Thomas Hawk via Flickr, CC 2.0