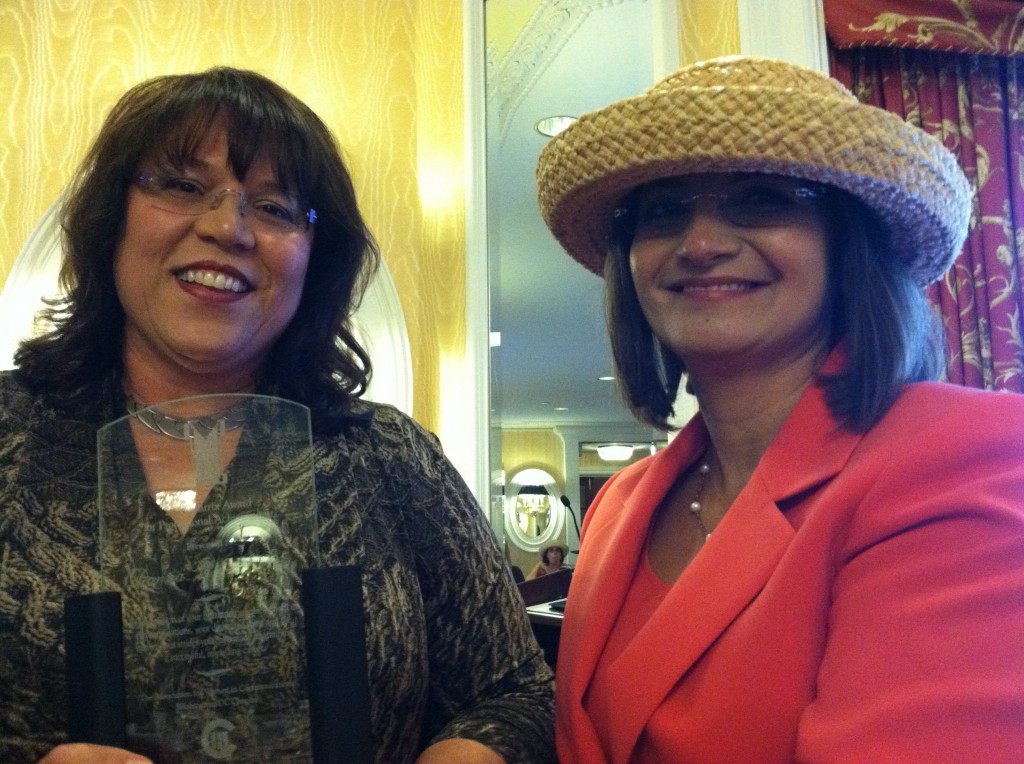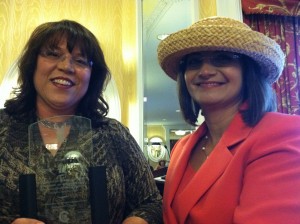 Yesterday I had the honor – and it really was an honor – of introducing Dr. Donna Vincent Roa as she received the 2011 Matrix Award (that's her on the left) from the Association for Women in Communication's DC chapter, in recognition of her accomplishments in the global communication field.
As I said in my remarks, long before I met Donna (who is IABC-accredited and a former IABC/DC Metro president, as I am), I bumped into her reputation. I couldn't avoid it. Wherever I went, there it was. Kind of like a doppelgänger, but much, much nicer.
Over the years, I've come to know her, and not just respect her smarts, which are incredible, but see what a genuinely kind and giving person she is.
Donna's done some pretty amazing things: not only does she have a Ph.D. in Communication (how many of us have that?!), she's

handled communications for the UN Economic Commission for Africa,
spearheaded the EPA's Office of Research and Development's science branding and communication efforts…
and oh, by the way, also wrote the screenplay for and executive produced One Child, a short film that "artfully positions a disastrous social policy that affects the lives of millions of girls in China and throughout the world with one child's wish to connect to her birth family," which premiered at the Cannes Film Festival in 2008.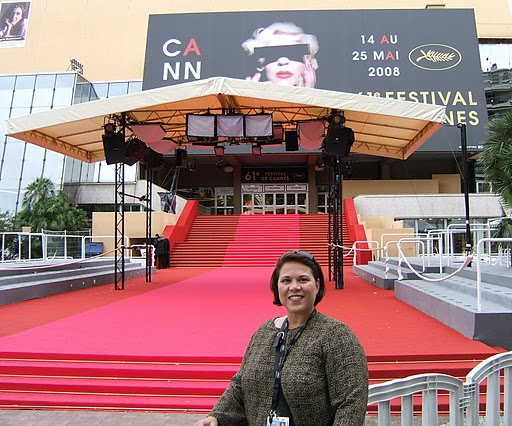 She even had the KGB watching her when on assignment in Russia, when she was a social scientist, doing international media research with the US Information Agency (which existed from 1953 until 1999). You know you've made the big time when you're on the KGB's watch list!
But how many of you know who Donna is?
(If you're plugged into the IABC/DC Metro network, that doesn't count.) How many of you, who are active in social media and are business communicators yourselves know who she is?
If you focus on finding your influencers on Twitter, or pretty much any social network, you'd be unlikely to think of Donna as a mover and shaker in the business communication field. Her blog isn't fancy. She has only recently started getting active on Twitter. If you rely on Klout, her score sucks. She is extremely unlikely to pop up in any discussion of online A-listers.
But I guarantee you that when it comes to working on projects in her chosen field – as her company website puts it, "communication about the Earth and its people" – Donna is at the top of the list, or pretty close to it, when clients are wondering whom to call.
There are many, many people like Donna.
Professionals who have distinguished themselves through the course of their career, who have done extraordinary things, who have given back to their communities time and time again… and who you might never get to know if you continue to live squarely at the center of the social media bubble. Granted, the bubble has been expanding, but it's still a bubble.
But if you do get to know them, I can also guarantee you that your world will be immeasurably enriched by them; by the force of their knowledge, by their generosity of spirit, and by the power of their ideas.
I can't tell you who these people are, in your neck of the woods. But you can find them.
Instead of going to the same ol' tweetup, try an IABC or PRSA meeting, or maybe that of a local communication organization such as AWC-DC in my area.
Talk to the organization leaders and find out who their top five chapter leaders have been, and get to know them.
Look at who's getting awards for excellence in your field, in your community… and not just in "social media."
These are the true rock stars of our field, even though they're practically invisible in social media.
Social is great. You know I love it. But I think it's important for us to periodically remind ourselves that it's just one facet of our world, just one of our many dimensions.
The real world is still out there. And it's not going away any time soon.