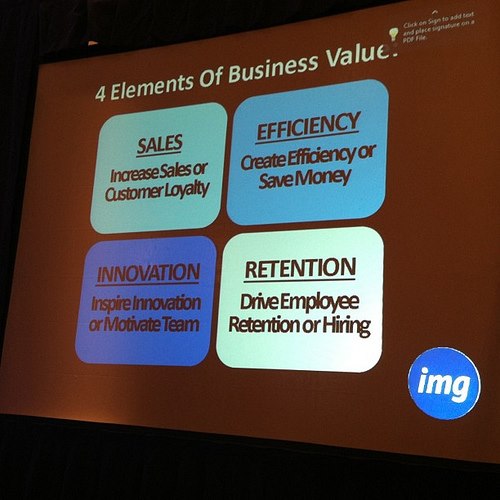 Welcome back from the long weekend, everyone! Did you find some time to relax and have fun? Are you feeling refreshed and ready to get back to work? Thank goodness it's a short work week, eh?
Since so much of what we do entails marketing, this week's roundup focuses on just that topic; from tools (the ones to use, not to be) to best practices:.
1. Slideshare Is The Biggest Opportunity In B2B Content Marketing
Why: Michael Brenner shares why Slideshare is a must-have for marketers, especially those in the B2B field.
2. Finding Keywords: The First Step to Blogging Success
Why: In this WUL guest post, Sean McGinnis explores one of the most important aspect of blogging (and content marketing), finding keywords.

3. Content Marketing Tactics: Business Blogging Pros, Cons, Best Practices & Brands Doing It Right
Why: Miranda Miller has a solid take – over at TopRank, one of my absolute fave blogs evah! – on why business blogs are important for businesses of all sizes.
4. Infographic: 25% of marketing budgets spent on content marketing
Why: Jim Dougherty doesn't agree with the premise (and title) of this infographic, but is impressed with some of the processes detailed.
5. Manage Your Marketing: What's Your Story
Why: Margie Clayman examines the importance of telling your story well as a subtle marketing tool.
6. What Digital Marketers Get Wrong

Why: In a guest post at Duct Tape Marketing, Chris Brogan shares what he learned from starting a business without a website.
7. Eight Silly Data Things Marketing People Believe That Get Them Fired.
Why: I've saved the best for last. It's by Avinash Kaushik, and that alone should pretty much tell you why, if you don't read any of the other posts on this list, you should at least read this one.
So, how about you? Do you have a great marketing secret, story, or post you'd like to share?  If so, please leave a comment below. And that photo is of a slide created by the awesome Rohit Bhargava, if you're wondering.