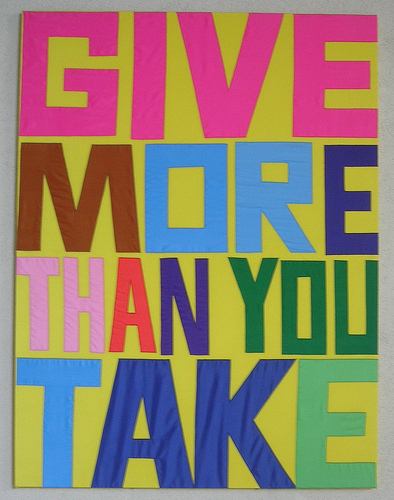 There is so much tragedy in the world.
Every day, someone, somewhere is affected by it. From a social media standpoint, even if you can't do anything physically, you can certainly earn some some social karma for yourself online. So I'm going to point you to a few different places to do just that (I hope) this weekend and beyond.
1. Alice Pyne, a 15-year-old British girl who has terminal Hodgkin's lymphoma, has a "bucket list" that includes being a Twitter trending topic. Check out #alicebucketlist – and if you can't do anything else, you could certainly tweet with that hashtag. Or if you're really brave, you could sign up as a bone marrow donor, which is her dearest wish.
2. My friends Lindsey Rosenthal and KiKi L'Italien are organizing #red4Joplin tomorrow in DC, to support the tornado-devastated residents of Joplin, Mo. Even if you can't attend, you could consider making a donation.
3. We're talking social good on the June 15 #prstudchat. 8:30 pm ET, I'd love you to join us.
4. Someone I haven't as yet met, but very much hope to, is riding to beat pancreatic cancer because his father recently passed away from it. That's Doug Haslam. Surely you can support his cause.
5. My friend Valerie Simon recently found out that one of her best friends has cancer … and the prognosis is not good. She's set up #TeamMeg to do what she can to keep Meg (her friend) and her family's spirits up as much as possible through what are going to be very trying days. And she's asking you to donate just $2 via Meg's CaringBridge site, because their $2 beers are one of her favorite memories from their college days.
6. Finally, tomorrow is the #bluekey tweetathon. If I haven't as yet hit you over the head hard enough convinced you to spend $5 for a symbolic blue key pin or pendant, you could at least join the tweetathon anytime between 9 am and 9 pm (ET) – it will be fun too, I'm pretty sure. And maybe then you'll get your own pin/pendant. I mean, seriously, it's just $5!
What do you think? Ready to do some social good? Please, give a hand where you can.
Image: Your Secret Admiral via Flickr, CC 2.0