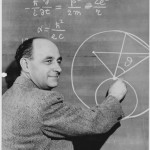 I've been dealing with a situation for the past few weeks involving a student who thought she wanted to " 'be' in public relations."
That is, until she found out that she was expected to actually do something besides sit at her desk or go to parties.
To quote my hero, Homer Simpson, "D-Oh!"
Those of us who now work or have worked in the public relat
ions profession know there's a boatload of stuff that comprises the field.
Edward L. Bernays himself, a gazillion years ago (well… 50 years ago), had this to say about the requirements in his book, A Definitive Study of Your Future in Public Relations: "Public Relations does not mean selling a product, an idea, or a personality. Instead, it depends fundamentally on doing – action and deeds that are geared to public understanding and acceptance."
I write a lot about the subject myself. Don't claim to be anywhere near the level of Mr. Bernays, but I've been around the block a couple of times.
I spend a lot of time in my "Principles of Public Relations" class at Curry College introducing my undergrad Communication students to "my world" and the "R.A.C.E." formula which defines the process of effective PR planning and programming as comprising research, action, communication, and evaluation.
I tell them, over and over, that public relations doesn't just happen.
A lot of up-front activity takes place in the planning…"research" and "action"…stages. Then you actually have to do what you say you are going to do ("communication"). Then, when it's all over (actually, throughout the process), you evaluate the situation to see (a) if anything has changed since you got started, (b) how you did in the end, and (c) what you might want to do differently the next time.
As always, I hasten to add that I realize it's way more complicated than this makes it sound, but this is a blog post, not the Encyclopedia Britannica.
Successful public relations is about accomplishing a mission…achieving an objective…making something happen that benefits your client or employer.
Successful public relations is not about sitting at your desk and shuffling papers or rubbing elbows with "boldface names" at cocktail parties.
Public relations is a profession with a recurring identity problem, though…one that we who are members of the Public Relations Society of America work diligently to address.
As Ivy Lee, an early and ardent advocate of open and honest public relations, so eloquently stated in his Declaration of Principles: "…our plan is frankly, and openly, on behalf of business concerns and public institutions, to supply the press and public of the United States prompt and accurate information concerning subjects which it is of value and interest to the public to know about."
In other words, our work as public relations professionals is conducted in the public's view, open to comment and criticism by all.
Some of the "all" perceive our work as manipulative or downright sneaky. And, sadly, not every single person who practices public relations is squeaky clean…much like any other profession. There are…and always will be…"bad apples."
But those of us who adhere to the PRSA Code of Ethics abide by the Code's "Core Values," and we try hard to impress on others our sincerity and our honesty. I would argue this applies to the vast majority of PR professionals.
What we don't do, as my young friend apparently thought would be the case, is sit at our respective desks and wait for something to happen. We make it happen!
It's called the "public relations profession" for a reason.
Image: The U.S. National Archives via Flickr, CC2.0