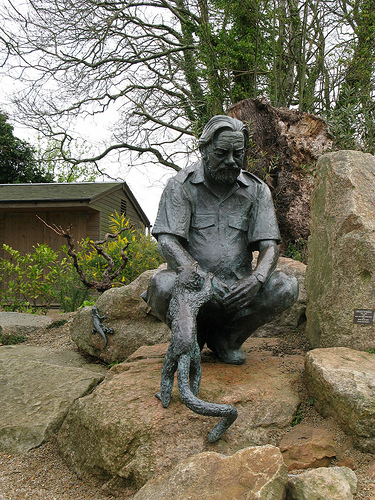 I don't know if you've read My Family and Other Animals by Gerald Durrell; almost everyone I've asked in the States hasn't.
It's a crying shame if you haven't; I read it years and years and years (ok, I'll stop now) ago, and it's one of the most-beloved books in my collection.
What a cast of characters.
The genius writer brother; the gun-crazy brother; the beauty- and romance-obsessed sister; the fiercely protective Greek Man Friday; and the food-obsessed and long-suffering mother (or Mother, as she's referred to).
Not to mention a whole host of plants, insects and animals.
It's a great book, not just because it's hilarious, but because it's wonderfully evocative and, despite the crazy antics described, clearly a loving depiction of an unusual family.
All of which is not to say
any of the writers highlighted below are crazy, gun-obsessed or long-suffering (actually, they might be long-suffering, but I have no way of knowing that).
But they're all great, and they're starting to feel like a family to me.
Do go have a read.
1. The feline theory of public relations, by Richard Bailey.
Why: with a headline like that, you think I was going to pass it up?
2. Super Sunday: are you ready for some… advertising! by Davina Brewer.
Why: even though I plan not to watch the Super Bowl, Davina might make me change my mind.
3. "Social media" or "social networking" – which term is correct? from Mizz Information.
Why: I don't know why we need to quibble over these things, and I liked Maggie's answer.
4. Where to use keywords in corporate blog posts, by Lee Odden.
Why: the thing I like so much about Lee is that not only does he know so much, he shares so freely.
5. Trying to figure out Quora? Me, too! by Bill Sledzik.
Why: I haven't come to terms with Quora myself, so it made me feel better that Bill – who is no dumb ass – hasn't either. Plus it's a great read.
6. 3 ways to get great content from your boring business, by Shannon Paul.
Why: I'll give you a hint: three reasons in the headline, and the fourth is the author, whom I ♥ big time.
7. Edelman's wonky 2011 trust survey, by Paul Seaman.
Why: I trust Paul. That's why I read him. You should too.
Image: Jon Mountjoy via Flickr, CC 2.0