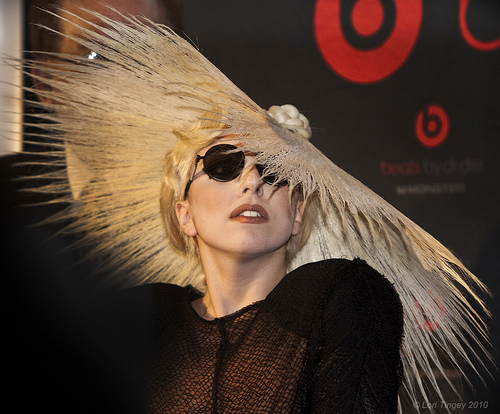 Whatever you think about Lady Gaga, you have to admit she does one thing extremely well: she commands attention.
Image: Lori Tingey via Flickr, CC 2.0
That's pretty important when you're on stage, even if you're not a professional performer.
And whether we realize it or not, we're almost always on some "stage" or other; with business partners, clients, even on Twitter.
Commanding attention becomes even more important when you're making a presentation. And preparing for, and then presenting at, Ignite DC No. 5 pretty much ruled my life the last couple of weeks.
I'll write more about that later, but for now, here are seven extremely useful posts on presenting well:
1. 8 speech writing lessons you can learn from songwriters, from Six Minutes.
Why: if you want your audience to "virtually tap their feet," as the post says, you need to read this.
2. How to give a great Ignite talk, from Speaker Confessions.
Why: Thanks to Shaun Dakin for pointing me to this. Even if you're not prepping for an Ignite-like format, these are excellent lessons on presentation in general.
3. The power of online video (and presentation) to change the world, from Presentation Zen.
Why: find out what "crowd accelerated innovation" is and how your presentation might play a part in that.
4. The Zen of presentations, part 36: Prezi, from NeuroDojo.
Why: Most of the presentations I attend still use PowerPoint (which I do too, quite often). Prezi, which I came across a while back, is a compelling alternative to PPT, though I don't think the latter is going anywhere any time soon.
5. Presentation lessons you didn't learn in B-school, from BusinessWeek.
Why: It reinforces some of the most important things to keep in mind for successful presentations.
6. How to give a killer sales presentation, from BNET.
Why: One of the reasons we take on speaking engagements, often unpaid, is to populate a business development pipeline. This could help you turn your presentations into sales and new business.
7. 3 ideas for a persuasive voice, from Live Your Talk.
Why: Jill Foster was my coach for Ignite, and I'm serious when I say I would have sucked without her. You should read this to start finding your own persuasive voice… and you should hire her if you need a speech writing or presentation coach.
What great posts on presentation have you come across?